This Week in Whiteness April 29 (The tumblr edition)
This week in whiteness, we're focusing on some of the news circulating around on tumblr. I would also like to encourage any of you who do see news to submit the posts or articles.
CeCe McDonald's case WILL proceed to trial. Interestingly enough, the prosecutor is still reluctant to drop charges for her, in cases where they might have already dropped them for a white person in similar circumstances. Shock.
New homeowners met with gun-wielding neighbors
NEWTON COUNTY, Ga. —
A Newton County family says what should have been one of their happiest nights turned into a nightmare. 

They said neighbors threatened them with guns and called the sheriff's office as they changed the locks on their new home 

The Kalonji family was ecstatic when their son just closed on a foreclosed home that the whole family was moving into. 

The realtor told the family after the closing they should head over to their new home and change the lock. 

"Somebody come over with the light and the gun," Jean Kalonji said. 

Jean and his wife, Angelica, said a man and what appeared to be his son, confronted them with guns in their hands. 

"He say to put the hands up and get out from the house otherwise he would shoot us," Jean Kalonji said. 

"I get up my hands up, they put by the wall," Angelcia Kalonji said. 

The neighbors with the guns apparently thought the Kalonjis were breaking into the home, didn't believe they owned it and called the Newton County Sheriff's Office after threatening with the guns. 

The Kahlonjis didn't have the closing paperwork with them. Deputies arrested the couple, charging them with loitering and prowling. 

The realtor said deputies should never have arrested the two.
Full story and video can be found here.
Racist responses to the Swedish cake cutting mess? Surely you jest!
Sadly, no. This was seen floating around tumblr.
Blackface, offensive body stereotypes… where's the bingo card?
This is just part of an ongoing problem where white culture still seems to think that they are perfectly entitled to our cultures and our bodies and do with them whatever they see fit.
MoveOn petition for Jasmine Thar
Dear MoveOn member,
On December 23, 2011, my goddaughter, Jasmine Thar, a 16-year-old African American, was shot and killed while in my mother's front yard in Chadbourn, North Carolina.
When the shot rang out, Jasmine was preparing for a routine shopping trip and doing what most teens do—texting. Two others, my niece and myself, were also injured in the shooting.
The 23-year-old Caucasian male who fired the fatal shot from the house across the street was taken in for questioning,but he has not been charged with a crime of any kind.
Because he claims it was an accident, the police let him go—despite the fact that he admits he fired the shot and police found a Confederate flag and Nazi literature in his home.
The message being sent is that you can shoot and kill someone like Jasmine and get away with it by simply claiming it was an accident. That can't be the world we live in.
That's why we created a petition on SignOn.org to District Attorney Jon David, Attorney General Roy Cooper, and Assistant District Attorney Chris Gentry. The petition says:
We demand justice for Jasmine Thar, who was shot and killed. Three months after the shooting we still have no answers. We urge you to sign this petition to demand a lawful, thorough, and unprejudiced investigation from the SBI and sound judicial decisions from Columbus County District Attorney Jon David and ADA Chris Gentry.
Will you sign the petition? Click here to add your name, and then pass it along to your friends:
http://www.moveon.org/r?r=274217&id=39852-9173195-bfuEy%3Dx&t=3
Thank you.
–Treka McMillian
I would encourage all of you to sign the petition and boost the word, to help bring Jasmine and her family justice.
Elderly Woman Who Locked Abusive Cop in Basement Wins Settlement From Police
Venus Green, who was 87 when she was handcuffed, roughed up and injured by police, will receive $95,000 as part of a settlement with Baltimore City. The city chose to settle the case instead of taking a chance in front of a jury.

"We thought we would have a difficult time in front of a city jury, or any jury," Baltimore City solicitor George Nilson said.

Green was so put out by what police officers did, the city said she locked one of them in her basement.

"I was treated like a criminal," said Green, a retired educator who's now 90.

In July 2009, Green's grandson, Tallie, was shot and wounded. Tallie said he was shot at a convenience store, but police insisted it happened inside Green's house and that the shooter was either Tallie or Green.

"Police kept questioning him. They wouldn't let the ambulance attendant treat him," Green said. "So, I got up and said, 'Sir, would you please let the attendants treat him? He's in pain,'" Green said.

Green said the officer said to her, "Oh, you did it, come on, let's go inside. I'll prove where that blood is. You did it."

Police wanted to go the basement, where Tallie lived, but Green refused on the basis that the police did not have a warrant.

"I said, 'No, you don't have a warrant. You don't go down in my house like that. He wasn't shot in here.'" Green said the officer replied, "I'm going to find that gun. I'm going to prove that you did it."
For the full story, including video, click here
Canadian judge calls residential schools a form of genocide
The chairman of Canada's truth and reconciliation commission says removing more than 100,000 aboriginal children from their homes and placing them in residential schools was an act of genocide.

Justice Murray Sinclair says the United Nations defines genocide to include the removal of children based on race, then placing them with another race to indoctrinate them. He says Canada has been careful to ensure its residential school policy was not "caught up" in the UN's definition.

"That's why the minister of Indian affairs can say this was not an act of genocide," Sinclair told students at the University of Manitoba Friday. "But the reality is that to take children away and to place them with another group in society for the purpose of racial indoctrination was — and is — an act of genocide and it occurs all around the world."

About 150,000 First Nations, Inuit and Metis children were forced to attend the government schools over much of the last century. The last school closed outside Regina in 1996.

The $60-million truth and reconciliation commission is part of a landmark compensation deal between the federal government, the Crown and residential school survivors. It is about halfway through its mandate and has visited about 500 communities, where it has heard graphic details of rampant sexual and physical abuse.

The commission has taken 25,000 statements from survivors so far and has heard from about 100 people who worked in the schools, Sinclair said.

Their legacy has left an indelible impact on Canadian society, he added. The commission has heard stories of survivors continuing the cycle of abuse with their own children.

Even those who worked at the schools are not immune. Many of them were victims, too, and suffer lingering guilt and shame.

"We've had teachers come forward to us and spoken to the commission … about how they so hated the experience of teaching in a residential school that they quickly left," Sinclair said. "They never put the fact that they worked at a residential school on their resume and they always kept that fact hidden from everybody, even from their own families."

Just as children of school survivors suffer with their parents' pain, so, too, do children of those who worked in the schools, Sinclair said. Children of staff members also attended the schools and still grapple with what they saw and experienced there. Some watched their parents become deeply depressed later in life as they came to realize what they had been a part of.

"In many ways, they also feel victimized by having been in residential schools. There is a great mixture of experiences here."

The commission is expected to release an interim report shortly about what it's heard so far. But even halfway through its mandate, Sinclair said, it's clear work will take much longer to complete.

There are between 200 million and 300 million government documents on residential schools policy and about 20 million photographs. The commission has only managed to copy about 14,000 photos for the record, he said.

Canada will have to work hard to undo the damage done by the schools long after the commission has finished its work, Sinclair suggested. Generations of children — both aboriginal and non-aboriginal — have been brought up on a curriculum that dismissed aboriginal culture and history as worthless and inferior.

Another consequence is that there is a spiritual void in many aboriginal communities, Sinclair added. Churches that once had strong congregations in aboriginal communities have moved out and elders who could pass on traditional spiritual teachings are no longer living.

"It took 130 years to create this problem. It's probably going to take us 130 years to undo it."
Remember how so many whites immediately fell back to the story about a young white teen who was set on fire by two black teens? Remember how many public figures were spouting that off?
Guess what? 
ST. JOSEPH, MO (KCTV/AP) -

A 17-year-old St. Joseph boy is accused of setting another teen on fire.

Joseph Gardner is charged with first-degree assault.  The charges stem from an incident April 19.

The Andrew County Sheriff says Gardner poured gasoline on a 13-year-old, set him on fire, and threatened to kill him and his family if he told anyone what happened.

According to a probable cause statement, Gardner is accused of threatening to murder the child and his family if he told anyone and that after igniting the child, Gardner stood there and laughed.

The victim is at the University of Kansas Hospital in Kansas City, KS, with first- and second-degree burns to his face, right arm and in his nose and throat.

Gardner was being held Tuesday on $150,000 bond.
And Gardner? He's white.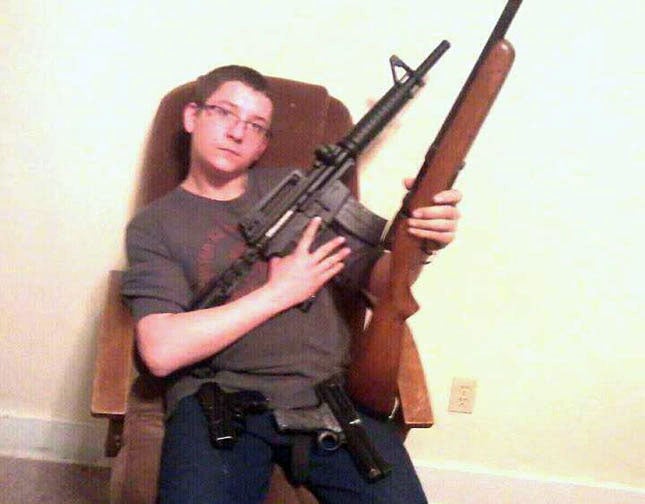 Guess who hasn't printed any clarifications?
That will round up this week. As always, stay vigilant and stay safe.